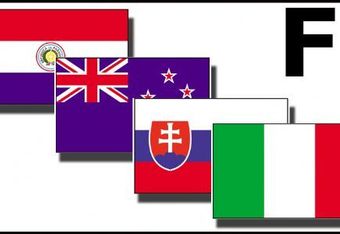 Continuing my Cup breakdown with
Group F
:
Italy
Paraguay
Slovakia
New Zealand
The Italians are the defending World Cup champs and it seems like they've drawn a fairly weak group this time so they should breeze into the next round. On the other hand, their core players (same ones from 2006) are all four years older, they've dropped down to #11 in
World SPI
and usually don't play well outside of Europe, so they probably won't repeat, but shouldn't have much trouble with this group.
Paraguay seems to be the odds on favorite for second place, which gives them the right to lose to the Netherlands in the first knockout stage. This is Slovakia's first appearance in the Cup Finals, so they're young and inexperienced but might also contend for second place and the right to lose to the Dutch.
I was in New Zealand last year when they qualified for the World Cup, only their second appearance ever and their first since 1982. Rugby union rules the NZ sporting world, and soccer is even a more minor sport there than it is in the US, but it was a big deal for the All Whites to even make the World Cup. I'll be cheering hard for them, but they really don't have a chance.