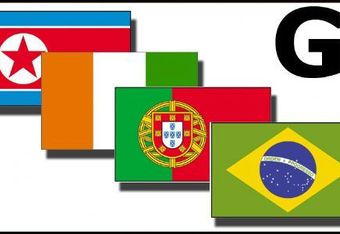 Continuing my Cup breakdown with
Group G
:
Brazil
Portugal
Ivory Coast
North Korea
This looks to be another group of death, with three strong teams (Brazil, Portugal, and Côte d'Ivoire) vying for two positions, but the North Koreans might be battling the NZ All Whites as the weakest team in the tournament.
The Brazilians are the five time champs who have been in every World Cup, and are probably the favorites in this one as the #1 SPI team in the world. They don't have Ronaldihno, but Kaka, Fabiano, and Dani Alvez make the core of a strong team that should contend for the title.
Portugal is another contender for the title with a front line of Cristiano Ronaldo (one of the top players in the world) and Nani (who replaced Ronaldo at Man United), but now that
Nani is out
, Portugal might be another one man team. The Ivory Coast are at least a two man team, with Chelsea's front line of Didier Drogba and Solomon Kalou, but now that Drogba is doubtful, Côte d'Ivoire are also doubtful to make it to the next round, even with their African advantage.
Apparently North Korea are the new
Dukla Prague
as far as being the
ironic soccer gear
of this World Cup. They're a very "secretive" country and part of the Axis of Evil, and they've only been to the World Cup one time in their history. Nobody knows what to expect from North Korea, but no one expects very much. Brazil and Portugal should breeze to the finals.