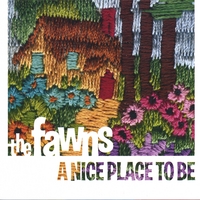 Track #9 on
His ND Xmas
is "Snow Day" by
The Fawns
.
The song comes from their album
A Nice Place To Be
. CD Baby's album notes describe the song as "a charming, amiable pop gem that could grace a million play-lists", and I discovered it last year on one of those million play-lists, the best of 2007 mix by
the summervillain
.
When I played "Snow Day" for the first time, I was sure that it was totally going on next year's Christmas mix, so I created an iTunes playlist called "Xmas08", and added this song as a seed, so it graced another play-list.
As it turns out, it doesn't really fit with the rest of the songs on the mix, but it was here first, so perhaps the rest of the songs don't fit with
it
? It's a happy song about a snowy day that provides a nice respite from all the sad songs about holiday depression.

Baby won't you play hooky with me
We can sit around
Drink peppermint tea
Go outside and build a snowman
Throw some snowballs at the mailman
Baby that sounds perfect to me

And to me as well.. Go to the Fawns
myspace page
, give "Snow Day" a spin, and watch your holiday depression go away for the next two minutes and thirty seconds!