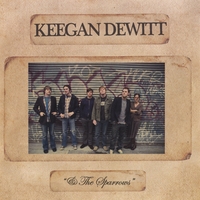 The 16th track on
His ND Xmas
is "Christmas Light" by
Keegan Dewitt & The Sparrows
, from their
self-titled
2006 album.
I've been a devotee of this song since I first heard it on the 2006 reissue of Chris Stamey's
Christmas Time Again
by the dB's & Friends, and it almost made my mix the last two years.
The two main criteria I use when choosing songs for my Xmas mixes are (1) Does it rock? and (2) Is it Christmasy enough? The first question is more figurative than literal, more "does it have a purpose?" than "does it have a back beat that you can't lose, any old time you use it?". Most songs that rock do so both literally and figuratively, but "Christmas Light" does not, in a literal sense, rock. It's kind of ... light. As in Christmas Light.
"Christmas Light" also falls somewhat short in the second criteria, because despite the title, the song doesn't mention Christmas in the lyrics. So when I'd be listening to my prospective mixed, this song would always stand out as being not particularly about Christmas, and would be flagged for replacement. This year I decided to let it stay, because even though it's not about Christmas, it's still a very nice song, and even though it doesn't rock in a literal sense, it certainly rocks in a figurative sense.
Keegan Dewitt & the Sparrows -
Christmas Light
(from odeo.com)