The U.S. dollar is historically weak against the pound and the Euro, which makes it tough for American tourists in Europe. Other than food, drink, lodging, and transport, I tried to keep my expenses to a minimum. The only items I came home with that I didn't leave home with were a couple of books I bought in London and a FC Barcelona soccer jersey from the club store at Camp Nou Stadium.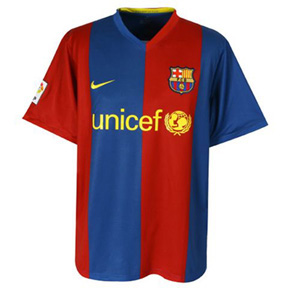 One problem with buying European soccer memorabilia, like NASCAR merchandise, is that almost all the clubs have a shirt sponsor, so you're paying money to turn yourself into a walking billboard. The nice thing about buying a Barça jersey is they're adorned with
a UNICEF logo paid by the team
to benefit children in "the developing world", so you're turning yourself into a walking billboard for a worthy cause.
The jersey I got was from the clearance rack, featuring the name and number of a player who's set to retire (#16 for Brazilian fullback
Sylvinho
) so I didn't contribute many Euros to UNICEF, but can still feel that I'm helping children in the developing world when I wear the shirt. It may even keep trick-or-treaters from asking me for spare change if I wear it on Halloween, since I gave at the office!