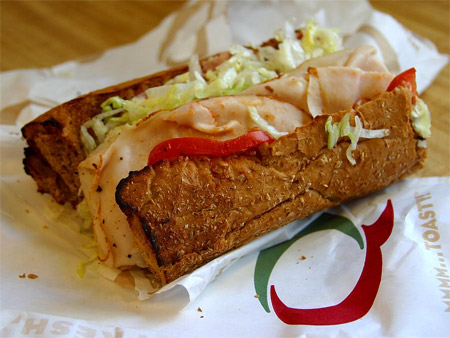 I think I've already hit all my favorite places so far this month, so I might be tied up in chains (as in chain restaurants) for my last few lunches of June.
With just $18 to spend, my plans are to compare national sandwich chains over the next four days. Today was
Quiznos
. It's right across the street from my office, but I never go there
because there's always a line, and Quiznos sandwiches aren't worth waiting in line.
I ordered the turkey & cheddar, which my favorite of the three sandwiches they offer as one of their daily specials. The Quiznos regular is about eight inches, which is the ideal sandwich size (halfway between a six-inch and a foot-long) to fill you up without making you feel like a pig.
June 27:
Ordered:
Turkey & Cheddar Sub from
Quiznos
Cost:
$3.99
Remaining Budget:
$14.29