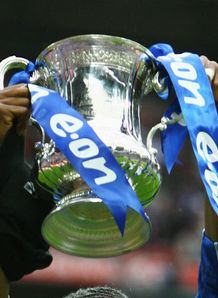 One day after making fun of college football for not having a playoff, I should say that I think the
FA Cup
is the essence of sports competition. Every team in the English Football Association, from Man United down to the lowest conference side, playing it off for a trophy with a blind draw in every round.
I used to not like the FA Cup because it was kind of confusing, with a lot of teams I'd never heard of, but it's great to watch anonymous teams like Southend and Hartlespool match up against Chelsea and Liverpool (and sometimes
knock them off
).
The larger Premier league teams get byes into the third round, but sometimes end up getting shocked by lower division teams confident after winning four matches in a row. It's pretty much what sports is all about.
My new favorite cup underdogs Hartlepool get to play West Ham (the Hammers) after beating Stoke City this weekend.