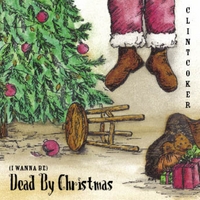 Track #6 on
His ND Xmas
is "(I Wanna Be) Dead By Christmas" by
Clint Coker
.
With this song, the title really says it all. I found out about it during the annual holiday music rundown at
mistletunes.com
, and was intrigued by the cover and title.
And the song itself does not disappoint. It's a singalong rant by a cranky 'ol redneck who doesn't like mistletoe, deck the halls, or noel, and wants to be dead by Christmas, dead by Christmas, dead by Christmas, or at least by New Year's Eve. To me, it sounds like what might happen if
Gil Ray
ever recorded a Christmas song!
Speaking of Christmas tunes by people I (we) know, there's a new holiday entry at
The Doubtful Palace
called "Linus and Lucifer". Guaraldi meets Gang Green (for alliteration's sake, are there any satanic death metal bands with names that start with G?). It dropped too late for my mix, but would have fit the theme perfectly.