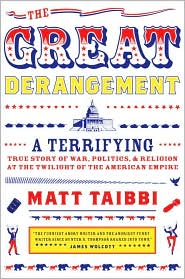 Today is 9/11/08, the seventh anniversary of 9/11/01, and I just finished reading
The Great Derangement
by Matt
Taibbi
. In this book, among other things,
Taibbi
writes a series of essays skewering of the so-called "9/11 truth" movement, all those tin foil hat conspiracy theorists who were convinced that the attacks were an inside job perpetrated by the Bush administration.
It's one thing to suggest that Bush & co. were unprepared for 9/11, another thing to suggest that they used the attacks as a basis for starting an unrelated war in Iraq, and quite another to suggest that they actually
planned
the attacks on the
WTC
and the Pentagon.
Masterminding something like that without leaving any evidence behind would require a ton of coordination and planning that was, quite frankly, beyond the
GWB
administration. One of my favorite essays from
The Great Derangement
(
reprinted here
) imagines how a fictional meeting between George Bush, Dick Cheney, and Donald
Rumsfeld
would have gone down in the months before 9/11.

Just imagine how this planning session between Bush, Rummy and Cheney must have gone:



BUSH:

So, what's the plan again?



CHENEY:

Well, we need to invade Iraq and Afghanistan. So what we've decided to do is crash a whole bunch of remote-controlled planes into Wall Street and the Pentagon, say they're real hijacked commercial planes, and blame it on Bin Laden; then we'll just blow up the buildings ourselves to make sure they actually fall down.



RUMSFELD

: Right! And we'll make sure that some of the hijackers are agents of Saddam Hussein! That way we'll have no problem getting the public to buy the invasion.



CHENEY:

No, Don, we won't.



RUMSFELD

: We won't?



CHENEY:

No, that's too obvious. We'll make the hijackers

al

-

Qaeda

and then just imply a connection to Iraq.



RUMSFELD

: But if we're just making up the whole thing, why not just put Saddam's fingerprints on the attack?



CHENEY:

(

sighing

) It just has to be this way, Don. Ups the ante, as it were. This way, we're not insulated if things go wrong in Iraq. Gives us incentive to get the invasion right the first time around.



BUSH:

I'm a total idiot who can barely read, so I'll buy that. But I've got a question. Why do we need to crash planes into the Towers at all? Since everyone knows terrorists already tried to blow up that building complex from the ground up once, why don't we just blow it up like we plan to anyway, and blame the bombs on the terrorists?



RUMSFELD

: Mr. President, you don't understand. It's much better to sneak into the buildings ourselves in the days before the attacks, plant the bombs, and then make it look like it was exploding planes that brought the buildings down. That way, we involve more people in the plot, stand a much greater chance of being exposed, and needlessly complicate everything!



CHENEY:

Of course, just toppling the Twin Towers will never be enough. No one would give us the war mandate we need if we just blow up the Towers. Clearly, we also need to shoot a missile at a small corner of the Pentagon to create a mightily

under-publicized

additional symbol of international terrorism -- and then, obviously, we need to fake a plane crash in the middle of fucking nowhere somewhere in rural Pennsylvania.



RUMSFELD

: Yeah, it goes without saying that the level of public outrage will not be sufficient without that crash in the middle of fucking nowhere.



CHENEY:

And the Pentagon crash -- we'll have to do it in broad daylight and say it was a plane, even though it'll really be a cruise missile.



BUSH:

Wait, why do we have to use a missile?



CHENEY:

Because it's much easier to shoot a missile and say it was a plane. It's not easy to steer a real passenger plane into the Pentagon. Planes are hard to come by.



BUSH:

But aren't we using two planes for the Twin Towers?



CHENEY:

Mr. President, you're missing the point. With the Pentagon, we use a missile, and say it was a plane.



BUSH:

Right, but I'm saying, why don't we just use a plane and say it was a plane? We'll be doing that with the Twin Towers, right?



CHENEY:

Right, but in this case, we use a missile. (Throws hands up in frustration) Don, can you help me out here?



RUMSFELD

: Mr. President, in Washington, we use a missile because it's sneakier that way. Using an actual plane would be too obvious, even though we'll be doing just that in New York...The other good thing about saying that it was a passenger jet is that that way, we have to invent a few hundred fictional victims and account for a nonexistent missing crew and plane. It's always better when you leave more cover story to invent, more legwork to do, and more possible holes to investigate. Doubt, legwork, and possible exposure -- you can't pull off any good conspiracy without them.



BUSH:

You guys are brilliant! Because if there's one thing about Americans -- they won't let a president go to war without a damn good reason. How could we ever get the media, the corporate world, and our military to endorse an invasion of a secular Iraqi state unless we faked an attack against New York at the hands of a bunch of Saudi religious radicals? Why, they'd never buy it.



RUMSFELD

: Well, I'm sold on the idea. Let's call the Joint Chiefs, the FAA, the New York and Washington DC fire departments, Rudy Giuliani, all three networks, the families of a thousand fictional airline victims, MI-5, the FBI,

FEMA

, the

NYPD

, Larry

Eagleburger

,

Osama

bin Laden, Noam Chomsky and the fifty thousand other people we'll need to pull this off. There isn't a moment to lose!
This essay had me
LMAO
so hard that I
MMBS
(missed my BART stop).