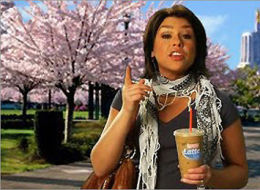 In my first two nights nights in Santa Fe, I've managed, completely by accident, to eat at two different restaurants featured in Rachael Ray's Food Network programs (
$40 a Day
and
Tasty Travels
). On Sunday, I ate at the Cowgirl Hall Of Fame, where there was a photo of Rachael in her cowgirl gear alongside the photos of real cowgirls like Dale Evans and Kitty Wells. And last night, I went to Upper Crust Pizza, which also has a signed photo of Ms. Ray on the wall.
I think Rachael might be the patron saint of Santa Fe, NM cuisine. She's literally everywhere here. She must have got through Santa Fe under $40 a day by not drinking beer or wine with dinner. I dropped $20 at the Cowgirl Hall Of Fame and Upper Crust just for myself, but that included a couple of Santa Fe Nut Brown Ales at $3.50 a pop.
Even though I'd never heard of it two days ago, SF Nut Brown is my new favorite beer, so tonight I went to the source (Santa Fe Brewery) to get more. It's only $3 a pint at the brewery, but they didn't have any pictures of Ms. Ray on the wall, so I broke my Rachael streak. Still, one hamburger plus two Nut Browns set me back $15, so I spent well under $40 today, which should earn me honorary Rachael points.