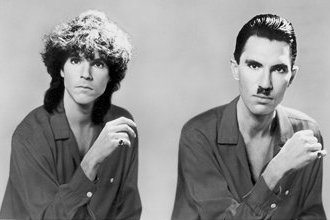 Sparks
have been celebrating the release of their 21st album by playing their previous 20 albums in order over 20 nights at the Carling Academy in London, ending with the debut of their 21st album
Exotic Creatures Of The Deep
this Friday (June 13). 
In a fit of congruity, each of the 21 nights were priced
at £20 each
. The extravaganza kicked off the first weekend I was in London with their first two albums,
Halfnelson
(1971) and
A Woofer In Tweeters Clothing
(1972), and I was thinking of going except I wasn't sure about dropping 20 quid on 40 minutes of music, so I decided to pass.  
The next weekend (when I was also in London) was
Introducing Sparks
(1977) and
No. 1 In Heaven
(1979), but I didn't make it to those shows either.
Introducing Sparks
is one of my favorites by them, so I was definitely tempted by that show.
A bunch of Sparks' back catalog (including the long out-of-print
Introducing Sparks
) was recently added to
emusic
, so the rest of you subscribers can hear that album as well. Isn't "Over the Summer" one of the best summer songs ever? And doesn't
every
photo of Ron
Mael
look like some photo of a regular person that's been defaced by funny glasses and a Hitler moustache?